Post by SixOfTheRichest on Jul 19, 2023 12:02:22 GMT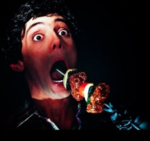 Sounds like a guilt complex to me and then the action of believing in a saviour that will absolve them just by the belief, means they don't have to take any personal accountability.
I totally get the guilt aspect of it. We've all made mistakes, though I think that "sin" is a rather out-dated way of looking at it.
Three things make absolutely no sense to me:
1) We're all cursed by the original sin of Adam.
2) Death is a consequence of sin.
3) Even given that we're convicted and to be penalized for that sin, it's nonsense for someone else to serve out your sentence so you don't have to.
These three items are contrary to anything experienced in the real world. One must appeal to some kind of otherworldly conditions, outside the realm of normal human experience, to accept these premises. So far I haven't heard a compelling reason to do so.
The idea that a crime affects offspring into the indefinite future is harsh and contrary to any legal code, including ancient ones.
The idea that death is a consequence of sin doesn't mesh with all animals being mortal. Animals are supposed to lack discernment so they're incapable of sin and thus ought to be off the hook.
The idea that someone could serve as a proxy for one's crimes is absurd legally. At no place any time has it been possible to have my dear sweet auntie serve out any jail term for any crimes that I am convicted for.
Guilt is often something we feel, if we are capable of tapping into our conscience. Even then, guilt is something others may force onto us, regardless of the behavior engaged in. Legalities see guilt as either this or that b&w ideology and that is not always the case for many.
There are psychopathic personalities that may not feel guilt. Many of these are the head of the institutions like religion and justice, that tell others they need to feel the guilt and only because they can't experience having a conscience themselves.
Torment is only born of suffering and suffering is born of mindlessness and ignorance. Suffering is then inflicted onto others, by those that are morally broken to the core. Many of those that claim to believe in a savior like Christ, wouldn't really.